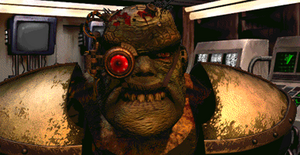 A cyborg is a biological organism, (human, ghoul, super mutant, dog etc.) whose physical or mental abilities are extended beyond normal limitations by either electronic, mechanical or robotic elements built into the body (i.e. Implant).
Fallout series
编辑
Cyberdogs - dogs with at least a mechanical part and an organic part. Their physical and mental abilities have been modified robotically and cybernetically, creating a kind of canine-robot hybrids. Unique model include Gabe (enhanced with huge intake of psycho) and K-9 (enhancements to the brain and vocal organs). Notable cyberdogs include Robodog (pet of Dr. Henry), Rex (pet of The King) and Roxie (temporary companion of the Courier).
Robobrains - robots that use the brains of criminals[1] or chimpanzees[2] suspended in bio med gel as their central processing unit. Unique model include Masterbrain (control robobrain of the Vault-Tec Headquarters) and Skynet (advanced AI system). Notable robobrain include Super-Ego (powerful robobrain in Big MT).
Fallout编辑
The Master - fused to an Overseer's chair and computer which generates its speech in real time from various voice samples.
Lieutenant - Lieutenant has a few augmentations such as a bionic eye instead of his right eye and cybernetic cerebral enhancements.
Template:Cut Tangler - cut from Fallout, Tangler was to have a cybernetic hand that would have been obtainable when killed.
Fallout 2编辑
Frank Horrigan - fused to a modified version of Enclave power armor specifically made to encapsulate Horrigan's bulk, Horrigan cannot separate from his power armor as it acts as life support keeping him alive by pumping him full of drugs.
Fallout 3编辑
Star Paladin Cross - Cross has been enhanced by scribe Rothchild to where she no longer needs to eat or sleep after she sustained critical injuries protecting Owyn Lyons in the field.

Point Lookout (add-on)

Professor Calvert - Calvert's brain was extracted from his body and put into a jar to keep him alive.
Fallout: New Vegas编辑
Fallout Tactics编辑
B1000 - a unique cybernetic brahmin covered with living brahmin tissue over a metal T-bone.
Reavers - the reavers are technologically strong in cybernetics enhancements and surgical augmentations, often use for their body, mostly scanning sensor that allow at least to sweep an area of twenty feet, detecting even a person who is sneaking. They are also known to use enhanced eye sight, hand surgical implants, central processors and valve-tube augmentation.
Simon Barnaky - after being kidnapped by the Calculator, Simon Barnaky became a unique humanoid brain bot. It consists of a large humanoid robotic suit equipped with a cannon on its left arm that a combination of a .50 machine gun and a missile launcher as well as a large claw on its right arm for close combat housing a human brain connected to a robotic program.
Fallout: Brotherhood of Steel编辑
Attis - Attis possesses a mechanical eye instead of his right eye.
Psycho ghouls - the high member of the Church of the Lost have all an electronic targeting eye instead of their right eye.
SPECIAL
编辑
In Fallout 2 and Fallout: New Vegas, the player can make themselves a cyborg by buying Implants from various doctors in Fallout 2 or Dr. Usanagi in Fallout: New Vegas. Also, in Fallout 3, the player can make the Lone Wanderer a cyborg with the Cyborg perk. And in Van Buren and J.E. Sawyer's Fallout Role-Playing Game the player would have been able to obtain the NEMEAN and PHOENIX implants.
Appearances
编辑
Cyborgs appear in every Fallout game.
References
编辑