The Paladin Toaster is a weapon in Fallout: New Vegas. It is a unique version of the zap glove.
Characteristics
编辑
The Paladin Toaster has a black and gray casing as opposed to the Zap Glove's blue and yellow as well as green lights along the wrist instead of blue. There are three coils along each side similar to the heating coils of an actual toaster. It inflicts more damage than the Zap glove as well as bonus damage against robots and enemies wearing Power armor.
Variants
编辑
Location
编辑
The Paladin Toaster位於Black Rock Cave. 它可以在一具被Nightkin看守的尋寶者屍體上找到
Notes
编辑
Despite a small energy cell being clearly visible in the glove, it does not require any ammunition.
The name "Paladin Toaster" stems from its ability to do bonus damage to Power Armor, which Brotherhood Paladins often wear.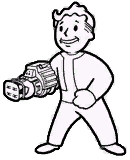 ps3

xbox360

pc

The Paladin Toaster uses the icon used for the Fallout 3 version of the power fist, despite the game files containing a specific icon for this weapon.